33 Taps Silver Lake Provides Best Brunch Option in Town
Fried chicken & waffles at 33 Taps Silver Lake (Courtesy Photo)
In Los Angeles, a warmer climate signifies an opportunity for people to simply get out more, particularly going out to eat and drink come spring season.
Enter 33 Taps Silver Lake, a sporty and foodie joint just southwest of the Silver Lake Reservoir, which recently began offering what I would call a prime brunch filled with a variety of items.
33 Taps Silver Lake's outdoor seating area offers a comfortable arrangement for your brunch experience, and with warmer days ahead of us, it is the ideal setting to sip on their refreshing bottomless mimosas or fun-to-drink Bloody Marys. The specials run through 3 p.m. for an attractive and reasonable $15. It doesn't get any better than this, or does it?
It does get better, actually, because the food is, hands down, so damn GOOD! The venue serves an array of options, including a Chef's Quiche Lorraine (baked bacon and swiss custard), Eggs Florentine (spinach, swiss and a poached egg atop an English muffin) and Huevos Rancheros (beans, rice, ranchero salsa and two eggs over a crispy tortilla).
The Breakfast Burger with bacon, cheddar, hash and egg on a syrup'd bun is served with fries. And for the price of $14, it's more than a bargain. This can very well become one of the hottest items come brunch time not only for its price, but because of its gastronomic nature: We all love burgers of any kind.
33 Taps Silver Lake also carries other breakfast classics in the likes of omelets, scrambles, burritos, sandwiches, French toast and waffles. But their bread and butter might turn out to be the Chilaquiles or Fried Chicken & Waffles.
The Chilaquiles come with tortilla chips tossed with beans, salsa, cheese and eggs. And for $12, you really cannot be asking for more. Easily pair this with a Bloody Mary, which makes it a suitable combination for your calorie intake.
We highly recommend the Fried Chicken & Waffles for $14, and in our eyes, it should be paired with a mimosa. Dainty white meat makes up the tasty fried chicken, as it is served next to an enjoyable crispy Belgian waffle that truly hits the spot!
Breakfast potatoes, southern grits, fresh fruit, oatmeal and applewood bacon, among other foods, can also be ordered as brunch sides.
The expansive sports bar, which has the most likable and joyful staff ever, also provides more than 30 brews on tap and big screen TVs for those sports lovers who might want to simply stop by and catch a big game with a drink.
33 Taps Silver Lake serves brunch Saturday and Sunday from 10 a.m. through 3 p.m.
From 3-6 p.m. Monday through Friday, there is a Happy Hour menu: 1/2 off all beer and wine, and $2 off all starters. And on Tuesday, you can enjoy Taco Tuesdays with two tacos for $3.33 all day. Additionally, there is 33 Taps Trivia every Wednesday night at 8 p.m. (hosted by King Trivia) with first, second and third place prizes.
33 Taps Silver Lake is located at 3725 W. Sunset Blvd., Los Angeles, CA, 90026. For more information, visit 33taps.com or call (323) 338-7777.
Video Slider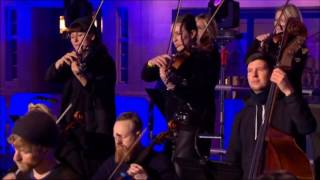 Win Tickets to See Pete Tong at Hollywood Bowl
Pete Tong is back in Los Angeles, and your chance to see him perform is at Hollywood Bowl on Thursday, Nov. 9. We are giving away complimentary tickets to the show. For a chance to enter to win, email us at
[email protected]
with "Pete Tong" in the subject line and tell us why you would like to go.