3 Reasons The Punisher Is The Marvel Series We Need
"http://lol-la.com/wp-content/uploads/2019/04/7.png" alt="disney on ice banner">
"http://lol-la.com/wp-content/uploads/2019/07/Living-Out-Loud-LA-for-Air-Supply-728x90.jpg">
http://lol-la.com/wp-content/uploads/2019/07/Yachtley_Crew-728x90.jpg">
"http://lol-la.com/wp-content/uploads/2019/07/HB19_DIGITAL_HERBIEHANCOCK_PROMO_728x90.jpg">
"http://lol-la.com/wp-content/uploads/2019/05/MTH-190039-Feel-The-Fame-Remarketing-Banner-728X90.jpg">
"http://lol-la.com/wp-content/uploads/2019/07/JoseLuisRodriguez_728x90.jpg">
Just over a month ago, Netflix released The Defenders, the much anticipated superhero team up of Netflix's Marvel contingent. A combination of Daredevil, Jessica Jones, Luke Cage, and Iron Fist on screen would surely be a winning formula.
Well, while it was a solid 8 episodes of television, it did not blow anyone away. There wasn't enough time for the characters to really build significant relationships. The villains were not particularly fleshed out, despite previous series building them up. The fight sequences were good but became somewhat predictable.
The reveal at the end that [SPOILERS] Matt Murdock is still alive surprised absolutely no one.
In its wake, I was left a little disillusioned with the classic superhero morality tales. Netflix would have to impress me with its next Marvel outing.
The good news is, The Punisher promises to do just that. With the epic trailer recently being released, here are 3 reasons The Punisher is the Marvel series we need.
Incidentally, if you do not have access to Netflix's catalogue due to regional reasons, find out how to unblock Netflix.
1. The Punisher is not immoral… but amoral
Frank Castle, otherwise known as the Punisher, is on a crusade. He is out to avenge the murder of his family, no matter what it takes. In the process he basically loses his humanity. We saw this in the second season of Daredevil, but with The Punisher, we can expect to see it played to its extreme. Frank Castle is unique as an anti-hero because he does not see right and wrong and choose to do the wrong thing. Rather, he is a nihilist who no longer has a sense of morality. In the trailer, we see him killing a man because he doesn't have any information for Castle. Whereas even villains in other stories might spare him, Castle simply does not care.
2. It's heavy metal
The reason the trailer is so epic is because it's scored by Metallica's One. One is a song about a soldier returning from war, half dead, broken, and no longer a part of the normal world. The drums and bass in the track are made to sound like a warzone, which is exactly how the trailer uses it. One is quintessentially heavy metal because it does more than provide a nice tune to sing (or scream) along to. Instead, it uses its instrumentation and vocals to tell a story, evoking imagery and emotion with its arrangement. The Punisher promises to do the same – it won't tell a classic, straightforward story. It will portray intense but nuanced variants of emotion through sequences that, sometimes, are little more than a rhythmic rain of bullets.
3. There is no saviour
Ultimately, what makes The Punisher special is that it subverts the superhero genre entirely. Castle is not out there for any reason other than to avenge his family. There is no "hero's journey". He does not want to save the princess in the tower, or do what's best for his city or the world. There's no classic journey for him, and that's what makes it unpredictable. While other superheroes have a clear path ahead, Castle's is anything but. Yes, he's out to avenge his family, but what then? Is there an end? And does it really matter if he wins or loses?
I'm optimistic about The Punisher. This time, I don't think I'm setting myself up for disappointment.
Video Slider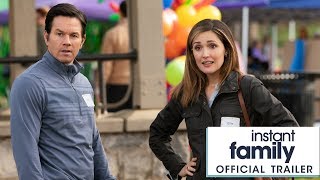 Win a Blu-ray + DVD + Digital Copy of Instant Family
Everyone everywhere can now enjoy Instant Family on Digital and on Blu-ray™ Combo Pack, and DVD on March 5 from Paramount Home Media Distribution. For a chance to enter to win at random, please email us at
[email protected]
with "Instant Family\" in the subject line and let us know why you\'d like to win a copy. This contest ends March 25, 2019.
"http://lol-la.com/wp-content/uploads/2019/05/MTH-190039-Feel-The-Fame-Remarketing-Banner-728X90.jpg">
"http://lol-la.com/wp-content/uploads/2019/07/Living-Out-Loud-LA-for-Air-Supply-728x90.jpg">
"http://lol-la.com/wp-content/uploads/2019/07/HB19_DIGITAL_HERBIEHANCOCK_PROMO_728x90.jpg">
"http://lol-la.com/wp-content/uploads/2019/04/7.png" alt="disney on ice banner">
"http://lol-la.com/wp-content/uploads/2019/07/JoseLuisRodriguez_728x90.jpg">
http://lol-la.com/wp-content/uploads/2019/07/Yachtley_Crew-728x90.jpg">