Your 2016 Coachella and Stagecoach Festival Essentials Guide
Don't be caught without these essentials at Coachella or Stagecoach.
Whether it's your first or 10th time at a music festival, one can never be too prepared. Oftentimes, we think we have all of the important stuff down, only to realize we've forgotten something else. At that point, it's already too late to do anything about it, so we try to get by the best way we can. What can we possibly do to avoid this from happening to us?! Pray to the Stagecoach and Coachella gods for help?
Actually, all you really have to do is look at our guide. We've done our homework, so you don't have to.
We've broken things down into different categories to make it easier to check things off your list.
Festival Ground Essentials: You absolutely cannot leave home without these in your bag.
• Wristband: You would be amazed at how many people forget their tickets/wristbands back home.
• Money: There have been way too many times when I've gone out and forgotten my debit card/cash.
• ID Card: Think about all the booze you'll be missing out on if you forget this baby. Oh, and it's also very important to have with you at all times, of course.
• Sunglasses: Don't suffer from the glaring sun.
• Bandana/light scarf: Use these to protect your face from the sand storms.
• Chap stick: Beware of chapped lips. Not only do they hurt, but your lips look horrible too.
Camping Essentials: The following applies to those of you who plan to camp. (Stagecoach no longer allows camping on site.)
• Tent: I don't think you'll want to be sleeping in your car.
• Sleeping bag: Pack your sleeping bag/air mattress and make sure to also bring an extra duvet for more comfort.
• Pillows: Pillows are actually much easier to forget. If you think you can replace them with a towel under your head and still get a good night's sleep … you are very wrong my friend.
• Towel: You won't be home, so technically you can't air dry if this is forgotten.
• Blanket: Bring a light blanket for those chilly desert nights.
• Flashlight: Your iPhone's light isn't going to cut it.
• Batteries: These are always good to have, whether used for flashlights, headphones or anything of that sort.
• Chairs: To eat and/or lounge in while you wait for the next festival act.
• Cooler: Where else will we stash the beer? Er, I mean … food.
• Trash bags: Placing your trash in a trash bag makes it easier. It'll save you a lot of trips to the trash bins.
• Tool kit: These always come in handy, believe it or not.
If you're camping off site in an RV for Stagecoach, add these to your list.
• Leveling blocks: Leveling blocks help level your RV at a sloped campsite.
• Light bulbs: You never know when the ones in the RV might run out.
• Tarp: Get some shade while you lounge.
• Propane: For the stove/grill.
• Pots, pans and cooking utensils: To cook that delicious food with.
• Dish soap & sponge: Please wash your dirty dishes. You don't want your RV getting any weird smells from leftover food.
• Condiments & cooking oils: Without these, your food will not be delicious.
Food + Snacks: Because food is the best, and we all get the munchies.
• Water: This is one of the most important things to bring with you. You need to make sure you're hydrated at all times. Especially in that desert heat.
• Snacks: Granola bars, fruit, trail mix, goldfish … you get the idea. One always needs something to munch on.
• Cups, plates, napkins, etc.: Trust me, you never think you need these until you do!
Personal Items
• Shower Caddy: It'll be much easier to carry all of your shower essentials in one of these, rather than having to carry everything in your hand. These include: shampoo, conditioner, soap/body wash, bath sponge/exfoliating gloves.
• Body lotion: Hot desert = dry skin.
• Perfume/cologne: You'll most likely be sweating. Please do everyone else a favor and smell good.
• Deodorant: Also a must, and you'll be doing yourself a favor, too.
• Sunscreen: Save yourself and your skin from those harsh UV rays.
• Ear Plugs: Trust me, you're going to wish you had these at nighttime.
• Kleenex/toilet paper: 'Nuff said.
• Toothbrush, toothpaste and mouthwash: These are forgotten more often than you think.
• Wipes: You can literally use wipes for anything.
• Aloe Vera: Aloe Vera is said to heal really bad sunburns.
• First Aid Kit: Major key!
Everything Else
• Portable chargers: For those of us who can't live without our electronic devices.
• Jumper cables: Here's hoping we won't need these, but just in case.
• Dry Ice: In case you didn't know, dry ice is a great alternative for actual ice – and it won't melt as fast.
• Clothes: Sure, the important stuff is the easiest not to miss. But things like pajamas and socks are. Don't forget these.
• Sandals: For walking around at night, and wearing in the shower. You don't want to catch any fungus while showering.
So there you have it, folks: a list of all you need to survive Coachella and Stagecoach. It'll make your life easier. Now all that's left is choosing what to wear! If you need help in that department, we've got you covered, too. Click here to check out our 2016 Coachella or Stagecoach fashion.
What do you think of our list? Is there anything we forgot to include? (Hey, we're not all perfect.) Let us know below!
Alicia Ruiz contributed to this story.
Video Slider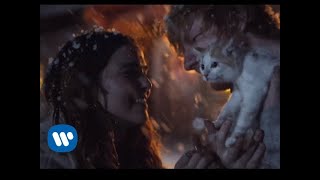 Win Tickets to See Ed Sheeran at the Rose Bowl
Ed Sheeran is back in Los Angeles, and your chance to see him perform is at the Rose Bowl in Pasadena on Saturday, Aug. 18. We are giving away complimentary tickets to the show. For a chance to enter to win, email us at
[email protected]
with "Ed Sheeran" in the subject line and tell us why you would like to go.