2015 Latin Grammy Awards: The Best of Latin Music's Big Party
Natalia Lafourcade was the big winner at the 2015 Latin Grammy Awards.
The Latin Grammys' big night that awarded the best artists in Latin music was a historic one, showcasing brilliant performances and collaborations. Natalia Lafourcade was the biggest winner of the night, and Julión Álvarez the most applauded.
The Latin Recording Academy hosted the award show and recognized the best of the industry in all musical genres. It brought together all of the big and new artists to one stage at the Grand Garden Arena at the majestic MGM Hotel in Las Vegas, Nev., on Nov. 19.
Within the surprises for this 16th edition was that for the first time, two women hosted the event: actresses Roselyn Sanchez and Jacqueline Bracamontes. These two definitely gave the most important night in Latin music some flavor.
Each year, the Academy recognizes an iconic artist for their long artistic careers and invaluable contributions to Spanish music with the Person of the Year Award. This year, the prestigious award was presented to Brazilian singer-songwriter Roberto Carlos. The ceremony for this special event took place on Wednesday, Nov. 18 at the Mandalay Bay Hotel, where media, special guests and colleagues of Carlos accompanied him. They also enjoyed an intimate mini concert by the artist.
The Latin Grammys ceremony is always preceded by a red carpet event. It is showered with stars parading and showcasing their best designer outfits, which later serves as a topic for media to comment on the best and worst dressed of the night. Ricky Martin, Alejandro Sanz, Chiquinquira Delgado, Alejandra Espinoza, Prince Royce, Pablo Alborán, Natalia Jiménez and Leslie Grace were admired the most for their wardrobe.
The stage was graced by 32 artists, all of which performed some undoubtedly memorable musical numbers and highlighted the best, never-before-seen, duo collaborations. Twenty-two presenters were in charge of announcing the winners and giving the awards to each of the winners themselves.
The best parts of the night that ignited the audience the most were the collaborations between artists of different genres. The highlight of the night was the Will Smith and Bomba Estéreo performance of "Fiesta," complete with fireworks. Alejandro Sanz sang alongside Paula Fernándesm during "A Que No Me Dejas," Natalia Jiménez and Il Volo sang "Creo en Mi" magnificently, Maluma and Fifth Harmony sang "Sin Contrato," Ricky Martin and Wisin sang "Que Se Sienta el Deseo" and Nicky Jam and Omi sang "El Perdón" and "Cheerleader."
Without a doubt, the duo that caused a sensation and raised controversy most were Maná and Los Tigres Del Norte.They performed "Somos Mas Americanos" and waved a flag at the end of the performance that read "Latinos Don't Vote for Racists."
There were also individual performances from Martin, Pablo Alborán, Banda el Recodo, Roberto Carlos, Espinoza Paz and Prince Royce, among others. The performance that took the night to the maximum was by artist of the moment Julión Álvarez, who sang "El Amor de Su Vida." The audience gave him a standing ovation at the end of his performance and asked him to sing one more song. Álvarez came back out, only to bow his head down in appreciation towards the audience, who did not stop applauding him.
List of Winners
Natalia Lafourcade was the surprise of the 2015 Latin Grammys, being the person with the most awards won with a total of three Latin Grammys for her incredible album, Hasta La Raíz, all of which were well deserved.
Record of the Year: Hasta La Raíz, Natalia Lafourcade
Album of the Year: Todo Tiene Su Hora, Juan Luis Guerra 4.40
Song of the Year: "Hasta La Raíz," Leonel García and Natalia Lafourcade – songwriters
Best New Artist: Monsieur Periné
Best Contemporary Pop Vocal Album: Sirope, Alejandro Sanz
Best Traditional Pop Vocal Album: Necesito Un Bolero, Gilberto Santa Rosa
Best Urban Music Album: El Que Sabe, Sabe, Tego Calderón
Best Urban Song: "Ay Vamos," J Balvin, Rene Cano, Alejandro "Mosty" Patiño & Alejandro "Sky" Ramírez, songwriters
Best Rock Album: B, Diamante Eléctrico
Best Pop/Rock Album: Cama Incendiada, Maná
Best Rock Song: "Esclavo De Tu Amor," Cachorro López and Vicentico, songwriters
Best Alternative Music Album: Hasta La Raíz, Natalia Lafourcade
Best Alternative Song: "Hasta La Raíz," Leonel García and Natalia Lafourcade, songwriters
Best Contemporary Tropical Album: Todo Tiene Su Hora, Juan Luis Guerra 4.40
Best Ranchero Album: Acaríciame El Corazón, Pedro Fernández
Best Banda Album: Mi Vicio Más Grande, Banda El Recodo De Don Cruz Lizarraga
Best Tejano Album: Sentimientos, Sólido
Best Norteño Album: Abrázame, Pesado
Best Regional Song: "Todo Tuyo," Mauricio Arriaga, Edgar Barrera & Eduardo Murguía, songwriters (Banda El Recodo De Cruz Lizárraga)
Karen Cruz contributed to this story.
Video Slider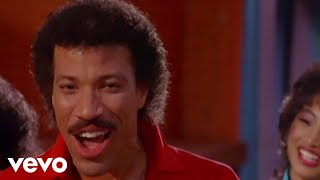 Win Tickets to See Lionel Richie at Hollywood Bowl
Lionel Richie is performing with very special guest Mariah Carey on the All the Hits Tour, and your chance to see them is at the Hollywood Bowl on Monday, July 31.