20 Ways to Celebrate Mother's Day with Food and Drinks in Greater LA Area
CAFE del REY's grilled shrimp.
Mother's Day is fast approaching and it's time to start pondering ideas on how to show your gratitude to the beautiful women in your life – moms, grandmothers, wives, aunts, and sisters alike.
There are so many options in the greater Los Angeles area, but we've filtered through and found some of the most unique destinations for you to enjoy a truly special edition of Sunday Funday with that special lady.
1. Gracias Madre – Gracias Madre is showing their gratitude by letting moms eat FREE from 11 a.m. to 5 p.m. If your mom is health conscious, she will appreciate the all organic, plant-based menu that Gracias Madre has to offer. The Mexican-inspired menu features Tortas with avocado, warm pozole, Ensalada de Frutas with farm lettuce in chipotle vinaigrette with ruby grapefruit and avocado, and an array of specialty cocktails like their Michelada de la Madre. All these delicious and healthy choices will surely leave your mom feeling happy and content on your dining choice. Gracias Madre is located in West Hollywood at 8905 Melrose Ave.
2. DeSano Pizza Bakery – More freebies! Celebrate Italian style with a mouth watering chocolate drizzled cannoli with strawberries for every mother that dines at DeSano Pizza Bakery. By the way, the pizza is delicious! Their Pizza Napoletana is authentic as it gets. Baked in their wood-burning ovens, their pizzas are made with true to tradition ingredients like mozzarella di bufala and salt from the Mediterranean Sea. DeSano pizzas also feature freshly made dough prepared daily, so they must close as soon as the dough runs out – don't miss out! DeSano is located in Los Angeles at 4959 Santa Monica Blvd.
3. Cecconi's – Does your mother appreciate a good drink? Then Cecconi's is the perfect place for this special day. Treat her to a prosecco cocktail like La Dolce Vita with Veev, St. Germain, lime, mint, raspberries and Cecconi's draft prosecco, or the Pomplemo, including Casoni 1814, grapefruit, lime, and prosecco. These cocktails will taste just right with some White Asparagus & Black Truffle Benedict ($22) or Strawberry & Rhubarb Tart with Meyer Lemon Sorbet ($10). Reservations are strongly recommended. Cecconi's is located in West Hollywood at 8764 Melrose Ave.
4. Santa Anita Park – Treat your mom to a day of excitement at Santa Anita Park where she will enjoy watching majestic horse races and a three-course lunch on their beautiful Turn Terrace. This $75 Mother's Day Brunch package also includes access to the Clubhouse, valet parking and a race program. For an extra special day, choose the $100 Veuve Clicquot Champane Brunch package which includes bottomless champagne and Happy Hour premium cocktails. Reservations are strongly recommended. Contact [email protected] to reserve your special day. The Park is located in Arcadia at 285 W. Huntington Drive.
5. Union – How about a more intimate setting for you and your special lady to enjoy good conversation and fine Italian food? Exactly this can be found at Chef Bruce Kalman's Union Restaurant in Pasadena. Their $49 Sunday Supper will include their delicious Spaghetti and tomato sauce, Pork Meatballs, Olive Oil Poached Tuna, Summer Squash, Roasted Peaches, Raddichio, Farro & Ricotta, and Fava Bean Tostone. Reservations can be made by contacting [email protected]. Union Pasadena is located at 37 E. Union Street.
6. L'Assiette Steak Frites – If your mother appreciates proper steak dinners, then L'Assiette Steak Frites is the perfect place for her. A complementary glass of Kir Royale will be offered to all moms as they finish off their memorable day with at a French inspired restaurant with their loved ones. Tender steak, good wine, and tasty desserts will be the perfect way to finish off a Mother's Day well spent. Dinner at L'Assiette is served daily from 5:30 p.m. to midnight. Visit L'Assiette Steak Frites in the Fairfax District at 7166 Melrose Ave.
7. Freshology – Why not treat your mother to three days of Freshology meals in the comfort of home? Freshology offers gourmet, calorie-controlled meals cooked fresh daily and delivered right to your door. Available meals are chef driven and change seasonally. Each delivery will also come with a surprise gift. It's three meals for $149.99. Spoil your mother this year for an the entire weekend! Order online at freshology.com.
8. The Hammer Museum – Take in some fine art and discuss Van Gogh, Warhol, and Picasso with your art savvy mom. The Hammer is making Mother's Day admission free for the whole family. They will also be hosting brunch in their courtyard along with a free mimosa! All mothers will be offered 10% off at the museum store. Make reservations for brunch by calling (310) 443-7037. The Hammer is located at 10899 Wilshire Blvd in Westwood Village.
9. Corazon y Miel – One of Los Angeles' up and coming restaurants, Corazon y Miel is opening for brunch on Sunday from 10 a.m. to 2 p.m. Reservations are encouraged for this highly popular restaurant. Corazon y Miel is becoming known for its bold cocktails and crafty takes on traditional Latin American dishes like Wild Boar Chillaquiles, Pan con Chompipe, and Corazon Burger. Corazon y Miel is located at 6626 Atlantic Ave in the city of Bell.
10. Cielito Lindo – Celebrate Mexican's Mother's Day on Saturday, May 10th at Cielito Lindo in South El Monte. They will be open for dinner at 5 p.m. and will offer Mariachi dinner shows throughout the night. You can comeback Sunday also and have brunch or listen to Mariachi for Sunday's Mother's Day. Either day you choose will be a fun, festive experience for you and your mother. Cielito Lindo is at 1612 N. Santa Anita Ave. in South El Monte.
11. Walt Disney Concert Hall – Is there a more beautiful place to celebrate Mother's Day than at the iconic Walt Disney Concert Hall? The Frank Gehry designed reflective gem is the perfect venue to have brunch with mom. Patina Catering will be in the Blue Ribbon Garden and will be seating guests from 9:30 a.m. to 12:30 p.m. Make your way to the Walt Disney Concert Hall at 111 S Grand Ave., but make sure to contact Patina Catering in advance for reservations.
12. Descanso Gardens – Celebrate a relaxed Mother's Day at the peaceful Descanso Gardens in La Cañada Flintridge. A nature lovers oasis, Descanso Gardens is one of the most prominent nature preserves in all of Southern California. Enjoy brunch at the Rose Garden on Saturday and Sunday. Brunch is $50 for members and $59 for non members.
13. Huntington Library & Botanical Gardens – Enjoy some champagne on Mother's Day in a beautiful colorful setting. Spring time is the best time to catch the beautiful Botanical Gardens at the Huntington Library in San Marino with your favorites women. Champagne Brunch will be hosted at the Brown Garden while Traditional English Tea will be served in the Rose Garden. Reservations are required and can be made by calling (626) 405-2249.
14. Sky Room Long Beach – The Sky Room will be serving a delicious three-course brunch on Mother's Day along with some great tunes from the Richard Sherman Trio featuring Grammy Award winner Bili Redd. The brunch will take place from 10 a.m. until 3 p.m. and is priced at $49 per person. Reservations are available but walk-ins will also be accepted. The Sky Room is located at 40 South Locust Avenue.
15. Rivabella – Enjoy LA's near-perfect weather and delicious food with your mom in an indoor-outdoor space that evokes a Tuscan farmhouse feel along with ultra-stylish elements. Rivabella will celebrate Festa della Mamma with an al fresco a la carte brunch ($12-22) from new executive chef, Luigi Fineo. Bottomless drinks can be added for an additional $15. Treat your lady to a taste of Italy while overlooking the Sunset strip. Find Rivabella at 9201 W. Sunset Blvd. in West Hollywood.
16. Vertical Wine Bistro – Vertical Wine in Pasadena will be pouring bottomless cocktails on Sunday for only $15. They will also be hosting a brunch at $39. Bring your mom to one of the swankiest places in Pasadena and make her feel extra special on this celebratory day. Vertical Wine Bistro is only a flight of stairs up from a quaint Old Pasadena courtyard at 70 North Raymond Avenue.
17. Napa Valley Grille – This Mother's Day, Executive Chef Taylor Boudreaux will craft an exclusive seasonal brunch buffet ($45) at Westwood's premiere wine country-inspired dining destination. Treat your lady to Lamb Merguez Sausage or their Crab Cake Benedict Duo. Bottomless mimosas are an extra treat. Napa Valley Grille is located at 1100 Glendon Ave. in Westwood Village.
18. Cafe Del Rey – Enjoy a brunch that was inspired by the California coasts and the Mediterranean. Try Executive Chef Chuck Abair's extensive menu with your mother and enjoy a festive and vibrant atmosphere as you overlook the stunning waterfront of a marina. Visit them at 4451 Admiralty Way in Marina del Rey.
19. San Antonio Winery – The Los Angeles winery will be serving a special Mother's Day menu that will be available both Saturday and Sunday. Pricing is a la carte and it is recommended that reservations be made beforehand. Enjoy a glass of wine or two and toast to mother's everywhere. This last remaining winery in Downtown Los Angeles is rich in history and a hidden gem that will leave you with nostalgia. After savoring the American and Italian flavors at Maddelena Restaurant, discover fine quality wine during a tasting tour of the facility. Discover San Antonio Winery at 737 Lamar St.
20. Fig & Olive – Toast to mom at Fig & Olive this Sunday and fill up on a French Riviera-inspired three-course meal. A $40 brunch or $52 dinner can be your ticket to their irresistible Porcini & Gorgonzola Jamon Iberico Ravioli or Provence Rosemary Grilled Lamb Chops. And of course, a proper wine list is available featuring over 30 varieties from the South of France, Spain, and Italy. Fig & Olive is located at 8490 Melrose Place in West Hollywood.
With so many places to celebrate mom is sure to be happy this Sunday. The only hard part is choosing where to take her.
Video Slider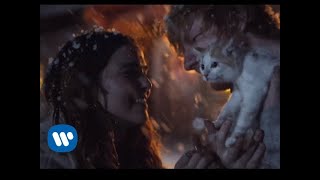 Win Tickets to See Ed Sheeran at the Rose Bowl
Ed Sheeran is back in Los Angeles, and your chance to see him perform is at the Rose Bowl in Pasadena on Saturday, Aug. 18. We are giving away complimentary tickets to the show. For a chance to enter to win, email us at
[email protected]
with "Ed Sheeran" in the subject line and tell us why you would like to go.