1992Gear Unveils Latest Clothing Collaboration
The 1992Gear x Cruise Life Car Club tees and hoodie debuted Monday night. (Pablo Lopez/Living Out Loud LA)
Monday night 1992Gear dropped its newest collaboration piece at FourTwoFour on Fairfax hosting a launch event where fans got the opportunity to buy their limited tee and meet the talented rapper Curren$y. On short notice, supporters of both 1992Gear and Curren$y quickly made their way over to FourTwoFour for an event that was posted onto their Instagram feed only a few hours prior to its commencement. Although there wasn't thousands of people lined up outside – most likely because it was a Monday night and an unexpected announcement – to owners Prince Dakkar and Jawz, the turnout was more than they could ask for.
Curren$y greeted his biggest fans, took pictures and signed a few autographs for a couple hours outside and inside the boutique. The rapper stuck around and didn't leave until each and every person in line got the handshake they had been patiently waiting for, and not only did he take pictures, but he dropped a few bars in front of a camera when the fans were watching.
Following yet another successful collaboration with DimePiece just a few weeks ago, this Los Angeles-based brand has now released the "1992Gear x Cruiselife CC" installment which consists of a seven-piece T-shirt and hoodie set.
The Cruise Life Cadillac Tee, which released in black and white, displays the infamous "Cadillac" logo on the front of the tee underlined by elegant font that reads, "Cruiselife." The back of the tee shows the 1992 box logo followed by "Privileges."
The next piece is the Chevy SS tee which also comes in black or white, as well as long- and short-sleeve versions. Not only did they make shirts, they also released a royal blue hoodie that breaks necks with the prominent choice of colors and gradient designs that are incorporated within the art. The long sleeve version carries the "SS" Chevy logo along with the checkered flag on opposite shoulders and is emblazoned by the Chevy logo at center chest. This shirt is brought together by gradient lines making the shirt look like a race-car driver's bodysuit.
The pricing for the tees in both designs is set at $50, while the long sleeves run for $75. The blue hoodie is priced at $120, and you can find these pieces at the FourTwoFour shop located at 424 N Fairfax Avenue or through their online shop at shop.fourtwofouronfairfax.com. Supplies are limited, and this collaboration is sure to sell out soon. So, do your closet a favor and grab yourself these threads before they're gone.
Video Slider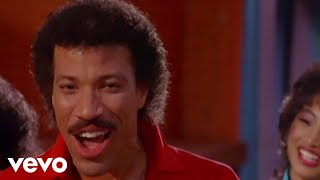 Win Tickets to See Lionel Richie at Hollywood Bowl
Lionel Richie is performing with very special guest Mariah Carey on the All the Hits Tour, and your chance to see them is at the Hollywood Bowl on Monday, July 31.