10 Things to Do Around L.A. This Weekend: Sept. 25-27, 2015
Dare to ring the witch's doorbell at the Trick or Treat maze at Knott's Scary Farm.
Some of you live for all things horror, and the end of September means pulling out your cauldrons, tombstones and other decorations and painting the town black. It's also time to buy your tickets to the annual theme park shenanigans that are meant to scare the crap out of your chicken friends, like me, while you laugh your ass off at them (us).
FRIDAY, SEPTEMBER 25
Culture
Knott's Scary Farm @ Knott's
Growing up in Orange County, Knott's Scary Farm was really the only option for my friends and me when it came to Halloween events. Now in its 43rd year, there are 11 crazy terrifying mazes and haunted attractions, three scare zones filled with costumed freaks whose only goal is to make you scream, an all-new Elvira show and the notorious Hanging to experience. If you've never been before, make sure to go with a friend who doesn't mind you grabbing their arm in fright all night! This season's hours: 7 p.m. to 1 a.m. Wednesdays, Thursdays and Sundays; 7 p.m. to 2 a.m. Fridays and Saturdays through Oct. 31.
Food
The Port of Los Angeles Lobster Festival @ Ports O'Call Village
There's a reason the Port of Los Angeles Lobster Festival has been around for 16 years: a plate filled with cole slaw, potatoes, sweet bread and over a pound of lobster for just $23. The delicious crustaceans are flown in fresh each day of the weekend-long festival from the Atlantic Ocean and served with lemon and buttery dipping sauce goodness to keep your belly happy. Every year the fest presents great local music acts to keep the party going from noon to night, and the 2015 lineup is no different: Black Crystal Wolf Kids headline Friday, Run River North Saturday and James Supercave Sunday.
Music
Snoop Dogg @ Saban Theatre
The Doggfather warms up for his Saturday set at Life is Beautiful with an intimate show for his hometown fans. His debut performance at the Saban is sure to include the hits that made Snoop a household name, from "Who Am I? (What's My Name)" and "Gin and Juice" to "Drop It Like It's Hot" and "Beautiful." He's also sure to let loose with some of his new material from his latest album, BUSH, which released in May and was produced by Pharrell Williams.
Sports
Kings vs. Ducks @ Honda Center
Although the start of the NHL regular season is still two weeks away, SoCal hockey fans can relish the preseason Freeway Face-Off between the 2014 and 2012 Stanley Cup-winning Kings and the 2007 champs, the Ducks, tonight in Anaheim. Whether you bleed black and white or black, gold, orange and white, if you're a hockey lover, you'll be down in the OC at 7 p.m.
SATURDAY, SEPTEMBER 26
Film
'80s Double Feature @ Exposition Park
I put the trailer for Some Kind of Wonderful above and not my favorite scene because I didn't want to spoil the whole movie for those who haven't seen it, but if you've seen any of the other films John Hughes wrote in the 1980s (Sixteen Candles, The Breakfast Club, Pretty in Pink), you might have an idea of what transpires. There's the artistic loner Keith (Eric Stoltz) infatuated with the popular girl (Lea Thompson) who has a total douche of an ex-boyfriend (Craig Sheffer), and Keith's tomboy best friend, Watts (Mary Stuart Masterson). The film is part of a Street Food Cinema double feature that also includes Amy Heckerling's iconic Fast Times at Ridgemont High. Festivities are kicked off with a set by City City, and eats are provided by Baby's Badass Burgers, Say Fish Tacos, What the Funnel and more.
Music
Brandon Flowers @ The Wiltern
The Killers frontman may hold a special place in my heart since I interviewed him for my first-ever magazine cover feature back in 2004, but his musical talent really stands on its own merit. The Killers haven't released new material since 2012's Battle Born, but Flowers hasn't just been resting on his laurels. He released his second solo album, The Desired Effect, in May, the follow-up to his critically lauded Flamingo debut from 2010. You can bet that newer songs like "Can't Deny My Love," "Lonely Town" and "I Can Change" are sure to have you dancing on the Wiltern floor.
SUNDAY, SEPTEMBER 27
Culture
Abbot Kinney Festival on Abbot Kinney Boulevard
This is one of my favorite annual community festivals because a) I can walk there and b) it's free. There is always plenty of refreshing libations (three beer gardens, juice from the Butcher's Daughter), yummy food (Kogi BBQ, Holy Guaca-Moly, the Pudding Truck), cool L.A. vendors (3rd Season, Cheltenham Road, Astali Jewelry) and local music acts (Matt Ellis, Nocona). With two kids stages, rides and games, it's an afternoon the whole family can enjoy.
Music
Grace Jones @ Hollywood Bowl
If I were to sing all of the praises possible for the fierce fabulosity that is Grace Jones, this column would be way too long. Singer-songwriter, supermodel, record producer, actress – she really can do it all. I mean, just take a gander at her photo to the right, give her songs like "Slave to the Rhythm," "Pull Up to the Bumper" and "My Jamaican Guy" a spin or watch her scene-stealing performance as Strangé in Boomerang for a taste. Baltimore's Future Islands open the show, so make sure to get there early and have your dancing shoes on.
Dance
Salsa Sundays @ Wallis Annenberg Center for the Performing Arts
Speaking of dancing, one of my favorite divas of dance, Debbie Allen, is teaching a free Salsa class today, from 3 p.m. to 5 p.m. with Allen and Lyric Cruz from her dance academy. Most of you probably know her from "Grey's Anatomy," but to me she will always be Miss Grant from "Fame" saying, "You've got big dreams; you want fame. Well, fame costs, and right here is where you start paying in sweat."
Sports
Galaxy vs FC Dallas @ Stubhub Center
What better way to end Sunday Funday than to be surrounded by 26,999 fellow fans as you cheer on the reigning MLS Cup champions, our very own Los Angeles Galaxy? Headed by team captain Robbie Keane, the Galaxy take on Matt Hedges and FC Dallas. The best thing the L.A. squad has going for it is: home-field advantage, so make sure to cheer them on as best you can.
Video Slider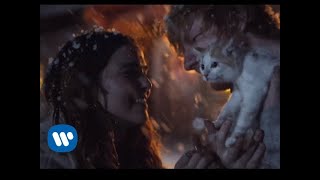 Win Tickets to See Ed Sheeran at the Rose Bowl
Ed Sheeran is back in Los Angeles, and your chance to see him perform is at the Rose Bowl in Pasadena on Saturday, Aug. 18. We are giving away complimentary tickets to the show. For a chance to enter to win, email us at
[email protected]
with "Ed Sheeran" in the subject line and tell us why you would like to go.