10 Things to Do Around L.A. This Weekend: Oct. 9-11, 2015
Cap off your weekend at Funny or Die's Oddball Comedy and Curiosity Festival with Amy Schumer and many other comedians.
It seems this weekend is all about tickling your funny bone, with major comedy events happening each day throughout Southern California. Aside from having a laugh, you can scare yourself silly at Panic Mountain or a Wes Craven double feature, cheer for the Dodgers in the MLB postseason, catch some international music acts at Culture Collide or partake of some ice-cold beer while supporting local artists.
FRIDAY, OCTOBER 9
Comedy
Jerry Seinfeld @ Pantages Theatre
I have a friend who can't sleep without the TV on, and her usual program of choice to count sheep to is "Seinfeld." Even when it's not bedtime, she often has the '90s sitcom playing in the background at her house. It's no wonder then that she can quote most of the episodes verbatim, and I, in turn, have seen every episode several times. I'm not complaining, though. Jerry Seinfeld is truly a contemporary comedy treasure, and seeing his signature stand-up show in person is something that every American should experience. Get tickets to tonight or tomorrow's performance soon, because there's not many left.
Culture
Panic Mountain @ A Secret Location in Running Springs
Season 6 of "The Walking Dead" premieres on Sunday, but you can live out all your zombie apocalypse fantasies in the woods near Lake Arrowhead through Nov. 1 at Panic Mountain: The Ultimate Halloween Zombie Nightmare. Gather a group of friends – but choose wisely as you'll be sleeping in a cabin with them for the night – make the 90-minute trip into the San Bernardino mountains, check in, eat dinner and try to survive the event challenges. These are mental, physical and hands-on panic rooms, obstacle courses and mazes to navigate as you dodge zombies throughout the forest. OMG, my heart is beating so fast just imagining it all.
Music
Culture Collide @ Various Locations
Every year Culture Collide brings together the best up-and-coming music acts from all over the world. The 2015 festival boasts over 50 bands playing through Saturday night at venues throughout Echo Park. The Juan MacLean (New York), Ash (Ireland), Sultan of Disco (Korea), Harts (Australia), Death By Unga Bunga (Norway), Panda Elliot (Argentina) and Mynabirds (Los Angeles) are just a scant few on the lineup. Get out, and catch your new favorite band.
Sports
Dodgers vs. Mets @ Dodger Stadium
For all of you who claim to bleed blue, this is it: time to really get behind your Los Angeles Dodgers as they face the New York Mets in the National League Division Series. Three-time Cy Young Award-winner Clayton Kershaw (16-7, 2.13 ERA) and Jacob deGrom (14-8, 2.54 ERA) are expected to be the starting pitchers for the game, which begins at 6:45 p.m. tonight in Elysian Park. Game two is Saturday at 6:07 p.m.

SATURDAY, OCTOBER 10
Comedy
Festival Supreme @ Shrine Expo Hall & Grounds
If you thought Jack Black and Kyle Gass of Tenacious D pulled out all the stops at the first two musical and comedy extravaganzas, just wait until you get a load of this year's lineup. Acts include Amy Poehler, Tim Minchin, Adam DeVine, Kristen Schaal, Charlyne Yi, Finesse Mitchell, Aubrey Plaza, the Kids in the Hall, the original cast of "Mystery Science Theater 3000," Nathan Fielder – and those are just the comedians. On the music side, there's Die Antwoord, Henry Rollins, the Darkness, Dan Deacon, Andrew W.K., Richard Cheese & Lounge Against the Machine, Big Freedia, Rocket from the Crypt, Puddles Pity Party and, of course, the D with a special jazz set.
Drink
Beer, Art & Music @ 18th Street Arts Center
Art and craft beer lovers unite for the annual Beer, Art & Music Festival (BAM) to support the 18th Street Arts Center, a non-profit artist residency center in Santa Monica. Peruse work from local artists while sipping on brews from Anchor, Golden Road, Lagunitas, Phantom Carriage, Smog City and many more. Sounds are provided by singer-songwriter Nick Shattuck, indie-folk foursome Heaps n' Heaps and Irish/Americana band Whiskey Sunday. You can also get some eats from the Green Truck, Dogtown Dogs, Cousins Maine Lobster, Middle Feast, Homeboy Industries and Brew Wings.
Theater
"uCarmen" @ The Broad Stage
Fifteen years ago director and writer Mark Dornford-May and music director, actress and writer Pauline Malefane joined together to form Isango Ensemble in Cape Town, drawing members of its company from townships surrounding the South African port city. Five years later, they released their feature film version of Georges Bizet's "Carmen," U-Carmen eKhayelitsha, to much critical acclaim as well as the Golden Bear for best film at the Berlinale. Isango Ensemble returns to the Broad Stage with the powerful theatrical version of the film, called "uCarmen." Today are the final two performances of the production's run, and you don't want to miss your chance to see it!
SUNDAY, OCTOBER 11
Comedy
Oddball Comedy and Curiosity Festival @ Irvine Meadows Amphitheater
Funny or Die presents the third installment of their touring festival of laughs. I know that Irvine is a bit of a trek, but once you check out the talent in this year's lineup, you'll totally understand. Aziz Ansari, Amy Schumer, T.J. Miller, Nick Kroll, Jay Pharaoh, Anthony Jeselnik, Ashley Barnhill, Dave Attell, Jeff Ross, Rachel Feinstein – I could keep going for another two lines or so. In addition, Big Jay Oakerson hosts a festival stage, featuring local comedians and surprise guests.
Culture
RISE of the Jack O'Lanterns @ Santa Anita Park or Descanso Gardens
I've been talking about a lot of frightening Halloween-themed events, so this one's a good change of pace. Every Friday, Saturday and Sunday evening through Nov. 1 more than 5,000 hand-carved jack o'lanterns by professional artists on display along a third-of-a-mile pathway. From animals and classic cars to film and television stars, the illuminated images displayed on the pumpkins are sure to delight everyone in the family.
Film
A Tribute to Wes Craven @ Egyptian Theatre
The film world lost one of its horror greats when Wes Craven passed away in August, and American Cinematheque is holding this tribute to the auteur as part of Beyond Fest 2015. The night begins with a screening of one of Craven's most famous movies, 1984's A Nightmare on Elm Street, which totally haunted me for years after I first saw it. A discussion between the film's star, Robert Englund – who played the devilishly gruesome Freddie Krueger in all of the franchise's movies – and screenwriter/filmmaker Mick Garris follows. Then, Bill Pullman stars as a Harvard researcher investigating black magic and zombies in Craven's chilling The Serpent and the Rainbow (1988).
Video Slider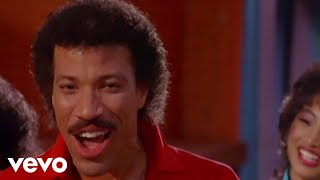 Win Tickets to See Lionel Richie at Hollywood Bowl
Lionel Richie is performing with very special guest Mariah Carey on the All the Hits Tour, and your chance to see them is at the Hollywood Bowl on Monday, July 31.