10 Things to Do Around L.A. This Weekend: Dec. 25-27, 2015
Make your Christmas even more magical by spending the day at Disneyland.
Even if you don't celebrate Christmas, this time is always full of festive fun in the city. If you don't have the energy to venture out and take part in one of my suggestions, at least make some special memories cozying up with your loved ones at home. Merry Christmas!
FRIDAY, DECEMBER 25
Culture
The Merriest Place on Earth @ Disneyland or California Adventure
Surprise your family with the ultimate gift this year: a trip down to Disneyland! The Happiest Place on Earth is even more magical around the holidays with tons of special attractions. There's the Christmas Fantasy Parade, the World of Color – Winter Dreams presentation, Viva Navidad street fest, and rides like the Jungle Cruise, Haunted Mansion and It's a Small World are transformed with festival holiday colors and decorations. Cap your evening off with the Disneyland Forever fireworks spectacular, celebrating the park's 60th anniversary. Disneyland is open 8 a.m. to midnight and California Adventure is open 8 a.m. to 11 p.m. on Christmas Day.
Film
Kill Bill: The Whole Bloody Affair @ New Beverly Cinema
While some place Pulp Fiction, Reservoir Dogs or Inglourious Basterds at the top of Quentin Tarantino's filmography, Kill Bill is by far my favorite work by the writer/director. Since its two volumes were released in 2003 and 2004, I've seen them close to 20 times, and I could seriously still watch it over and over again. Not only does it feature awesome martial arts fight scenes, a killer plot, great one-liners and unforgettable score by the RZA, the cast is headed by fierce and fabulous women – Uma Thurman, Lucy Liu, Vivica A. Fox, Daryl Hannah and Chiaki Kuriyama. There is one warning, though: After watching Vol. 1, the 5.6.7.8's "Woo Hoo" is going to be stuck in your head for hours.
Sports
Clippers vs. Lakers @ Staples Center
Ask any NBA fan, and they'll tell you that Christmas Day just isn't complete without a good basketball game. This year, Angelenos are blessed with a matchup between both of our hometown teams. While the Clippers are firmly planted in the top half of the Western Conference, the Lakers are still sadly remaining in the bottom. Whatever the game's result, it's still a momentous occasion since it will be Kobe Bryant's final Christmas game as a pro.
SATURDAY, DECEMBER 26
Comedy
Gabriel Iglesias @ Microsoft Theatre
The standup comedian just debuted a new Fuse series, "Fluffy Breaks Even," in October, and his latest tour shares its name with the show. Each episode features the comedian and his tour mates in different places across the country, partaking of the best food each city has to offer then doing over-the-top stunts and challenges to work off the calories they've consumed. You can be sure that tales from those adventures will make their way into Fluffy's sets tonight and tomorrow at Microsoft Theater.
Film
The Poseidon Adventure @ Egyptian Theatre
Now that Christmas has passed by, it's time to look forward to New Year's Eve. Dress up like you're going to a 1970s NYE ball to end them all for American Cinematheque's presentation of the Ronald Neame disaster classic. The film stars Gene Hackman, Ernest Borgnine, Shelley Winters, Red Buttons and Carol Lynley trapped on a capsized ocean liner at sea on New Year's Eve. The night at the Egyptian is complete with the film screening, displays from the movie and a toast.
Music
Murs @ The Fonda
Get down – and burn some of those holiday cookie calories – with Nick Carter, better known as Murs this evening at the Fonda. The L.A. native is one of the most successful indie rappers of our time, and if you have yet to catch him rhyme in person, now's your chance. From his work with Living Legends, Felt and 3 Melancholy Gypsys to his solo releases dating from 1997's F'Real to this year's Have a Nice Life, there's bound to be a beat – or two or 30 – that catches your ear and transports you to another place for a few moments.
SUNDAY, DECEMBER 27
Art
The Inaugural Installation @ The Broad
A trip over to the new Broad museum is the perfect outing for you and your family before everyone heads back home. While advanced online reservations are booked through February, you can still visit the museum from 10 a.m. to 6 p.m. today to try and gain admission. In addition to the permanent collection – featuring works by Jean-Michel Basquiat, Robbie Conal, Amy Adler and more – the Inaugural Installation presents pieces by Robert Rauschenberg, Roy Lichtenstein, Ed Ruscha, Andy Warhol and Yayoi Kusama's amazing Infinity Mirrored Room – The Souls of Millions of Light Years Away.
Culture
ICE @ Corner of 5th Street and Arizona Avenue, Santa Monica
Keep the wonderment of winter alive by going for a few laps around the outdoor ice skating rink known as ICE. The 8,000 square-foot rink is just steps from Third Street Promenade in case you have to return some gifts of use up gift cards. You can also make an event out of it by renting a private cabana. Admission with skate rental is $15, and the rink is open from 10 a.m. to 10 p.m. ICE lasts through Jan. 18.
Reindeer Romp @ Los Angeles Zoo
She's going to kill me for telling you guys this, but my friend just learned that reindeer are real animals a couple of weeks ago! However, she also realizes that flying reindeer with glowing red noses are unfortunately not real – that we know of (ha!). If you've never seen an actual reindeer, the L.A. Zoo has you covered with their annual holiday Reindeer Village. The area also includes daily reindeer games, a puppet show, song and dance performances, crafts and photo ops.
Theater
"The Bridges of Madison County" @ Ahmanson Theatre
Why not wrap up your holiday weekend on a romantic note? Based on the same Robert James Waller novel that was adapted into the 1995 film starring Clint Eastwood and Meryl Streep, this Broadway musical features a Tony-winning score by Jason Robert Brown. Directed by another Tony winner, Bartlett Sher, "The Bridges of Madison County" tells the gripping love story of Italian war bride Francesca Johnson and the National Geographic photographer Robert Kincaid who comes into town while her family is away at the state fair to take images of the area's famous covered bridges. Elizabeth Stanley and Andrew Samonsky are fantastic as the two leads, and you're sure to get swept up in the show.
Video Slider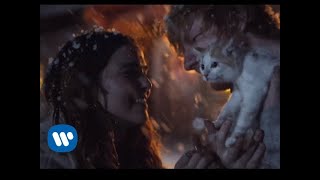 Win Tickets to See Ed Sheeran at the Rose Bowl
Ed Sheeran is back in Los Angeles, and your chance to see him perform is at the Rose Bowl in Pasadena on Saturday, Aug. 18. We are giving away complimentary tickets to the show. For a chance to enter to win, email us at
[email protected]
with "Ed Sheeran" in the subject line and tell us why you would like to go.