10 Things to Do Around L.A. This Weekend: Dec. 18-20, 2015
Get even more hyped for Star Wars: The Force Awakens at Lightsaber Battle LA.
Undoubtedly a trip to the cinema to see Star Wars: The Force Awakens is on your schedule for the weekend, and there's a special Lightsaber Battle happening Friday night for all you superfans. If you're looking for a breather from anything related to a galaxy far far away, there are plenty of other things for you to do.
FRIDAY, DECEMBER 18
Culture
Lightsaber Battle LA @ Near Pershing Square (Exact location e-mailed to those who RSVP)
Newmindspace and Lightsaber Academy present this massive battle between Jedi and Sith in the heart of Downtown. Just reserve your lightsaber for $10, gather at 8 p.m., choose your side wisely and the battle begins just after 9 p.m. If it gets too intense, take a break and enjoy the DJ, food truck and temporary bar that will be set up at the gallery space. May the force be with you!
Film
National Lampoon's Christmas Vacation/Scrooged @ Egyptian Theatre
A smile immediately appears on my face whenever I think back to seeing both Christmas Vacation and Scrooged at the movies with my family when I was little. I remember my mom laughing so hard she cried as Clark Griswold (Chevy Chase) tried so hard to make Christmas absolutely perfect for his family in the holiday installment of the National Lampoon franchise, and the kooky Ghost of Christmas Present (Carol Kane) visiting Bill Murray's Frank Cross in Scrooged. If you've never seen either of these Christmas classics, don't miss the chance to see them on the big screen tonight.
Theater
"Liner Notes" @ Geffen Playhouse
Most know Rita Wilson as an actress (Sleepless in Seattle, Now and Then, Runaway Bride), a producer (My Big Fat Greek Wedding, Mamma Mia!) or as the wife of Tom Hanks. Wilson, however, is also a singer-songwriter, and she shows off her musical talents in "Liner Notes: Songwriters, Stories and Music with Rita Wilson and Friends" at the Geffen through Sunday evening. Each performance is akin to VH1 "Storytellers," where Wilson is joined by special songwriter guests – Jessi Alexander, Kristian Bush, David Hodges, Richard Marx, Stephan Moccia, Jon Randall, Lindy Robbins and Billy Sternberg – for a cabaret-style experience.
TV
Seinfeld: The Apartment @ 8445 Melrose Ave., West Hollywood
As the time for Festivus (Dec. 23) draws near, all "Seinfeld" fans can rejoice that Hulu brings their wildly popular pop-up installation that features a replica of Jerry's apartment to Los Angeles. In addition to experiencing the iconic abode in the flesh, there is going to be memorabilia and museum items to take a gander at as well. The free installation is open from 10 a.m. through 7 p.m., through Dec. 20.
SATURDAY, DECEMBER 19
Film
Gremlins @ The Palace Theatre
Who can resist Gizmo, the adorable little Mogwai? As long as you don't – say it with me – give him any water, expose him to bright light or feed him after midnight! Join Cinespia for their annual holiday festivities with this screening of the 1984 fantasy/comedy/horror film that just so happens to take place over the Christmas holidays. The party also includes DJs, special festive cocktails and a photobooth.
It's A Wonderful Life @ The Cinefamily
If you're in the mood for something a bit more traditional, head on over to the Cinefamily for one of their screenings of the Frank Capra classic starring James Stewart as George Bailey. Get in the holiday spirit as George realizes the true meaning of Christmas in 35mm on the big screen. The Cinefamily is also playing the film at 7:30 p.m. on Christmas and Christmas Eve.
Music
Muse @ Staples Center
While the trio's Friday-night show at Staples is sold out, there are still tickets left for tonight's show. If you have yet to experience the Brits live, you must go. Their ability to create such a huge wall of sound and dynamic show while there's only three of them on stage is uncanny. Whether you're a fan of their new songs like "Dead Inside" off their latest album, Drones, or older tunes ("Time Is Running Out," "Starlight," "Madness" among others), you are sure to enjoy this concert.
SUNDAY, DECEMBER 20
Theater
"The Unauthorized Musical Parody of Home Alone" @ Rockwell Table & Stage
Rockwell Table & Stage is known for their extremely fun parody productions that have targeted everything from Scream and Cruel Intentions to Clueless. This holiday season, their sights are set on Chris Columbus' 1990 comedy (written by John Hughes), which starred Macaulay Culkin, Joe Pesci, Daniel Stern and Catherine O'Hara. At "The Unauthorized Musical Parody of Home Alone," expect hilarious acting, uproarious songs and just an overall fun time through Jan. 3.
Music
Gay Men's Chorus of Los Angeles' Holiday Spectacular @ Alex Theatre
The title for this year's Gay Men's Chorus of Los Angeles' Holiday Spectacular says it all: "Brassy, Classy & Sassy!" If that doesn't make you want to drive on over to Glendale to join in on the festive shenanigans, there's something seriously wrong with you. The men promise some reinvented holiday classics interpreted with their classic repertoire – jingle bells and jazz hands aplenty! Performances are at 3 p.m. today and tomorrow; 8 p.m. this evening.
Dance
Great Russian Nutcracker @ The Wiltern
While I featured the Los Angeles Ballet's production of the holiday classic, I must give equal love to the gloriously beautiful Moscow Ballet rendition. Forty of the country's world-class dancers are adorned in over 200 costumes, joined by 10-foot tall puppets and dance through a stunning set designed by Carl Sprague (The Royal Tenenbaums, Twelve Years a Slave, Grand Budapest Hotel). Performances are at 3 p.m. today; 7 p.m. tonight and tomorrow evening.
Video Slider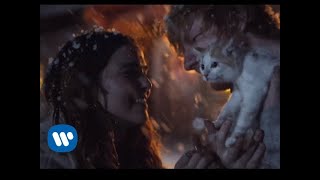 Win Tickets to See Ed Sheeran at the Rose Bowl
Ed Sheeran is back in Los Angeles, and your chance to see him perform is at the Rose Bowl in Pasadena on Saturday, Aug. 18. We are giving away complimentary tickets to the show. For a chance to enter to win, email us at
[email protected]
with "Ed Sheeran" in the subject line and tell us why you would like to go.