10 Things to Do Around L.A. This New Year's Eve
Celebrate New Year's Eve at one of the best events happening around town, like the party over on the Queen Mary.
We may not have a humongous city celebration to rival the craziness surrounding the ball drop at Times Square, but that doesn't mean the City of Angels isn't full of places to party it up on New Year's Eve. While I tend to favor small, intimate affairs with my nearest and dearest in the safe confines of one of our homes, to those who just want to go all out and paint the town red: I salute you!
Bill Burr @ The Orpheum Theatre
Spend the final hours of 2015 crying laughing at one of Bill Burr's sets (7:15 p.m. or 10:30 p.m.) at the gorgeous Orpheum Theatre in Downtown. You most likely recognize the comedian's name from "Townies," "Chappelle's Show," "Breaking Bad" or his new Netflix series "F Is for Family," but if you've never experienced his stand-up routines live, you really must do so tonight.
Camp Overnight @ The Rose Parade Route
If you have family visiting from out of state that love being outside, this is the event for you. Beginning at noon on Dec. 31, you can secure your spot to witness the Tournament of Roses annual Rose Parade in person. It's going to be quite cold, so make sure to bundle up! After the parade, you can thaw out at a nearby café or sports bar and watch Stanford and Iowa battle it out in the Rose Bowl game.
Kurios: Cabinet of Curiosities @ Dodger Stadium
It's not an easy thing to describe Cirque du Soleil to someone who hasn't seen one of their productions before. If you take a regular circus, subtract the animal acts and inject the acrobatic feats, costumes, choreography, musicality and overall entertainment value with much more artistry, it's still not a good enough description. Each show is different, and Kurios continues that tradition by taking on a steampunk edge. Taking in either the 1 p.m. or 4:30 p.m. show, followed by a romantic dinner, would be a great NYE date.
Dinner and Dancing @ Taix
Class things up a bit, and take your special someone to Taix French Restaurant in Echo Park for an old-school affair. First, dine on some Baked French Onion Soup, Escargot de Bourgogne, Coq au Vin, Steak Frites Au Poivre and Mousse au Chocolat Noir (Dinner is served from 5 p.m. to 11 p.m.). Then dance off some of those calories to live DJ sets. Finally, take part in the midnight champagne toast. Cheers to the New Year!
Morrissey @ Galen Center
I would never encourage you to buy concert tickets from a broker or some random person online, but that might be your only way into this highly coveted show. It's not that often Moz plays a smaller-sized arena such as USC's Galen Center, which is why tickets sold out so quickly. Not to mention how many Angelenos remain steadfastly dedicated to the British singer. Pour all of the sorrows you've pent up all year into singing your heart out to all your favorite Morrissey songs.
Mötley Crüe @ Staples Center
To all my fellow metalheads, please join me in a moment of silence to observe Nikki Sixx, Tommy Lee, Mick Mars and Vince Neil's final show together – until a reunion happens sometime in the future. The Crüe has sold more than 100 million records and has broken almost as many laws and hearts since forming in the City of Angels nearly 35 years ago. Join fellow fans at Crüe Years Eve to headbang along to "Shout at the Devil," "Girls Girls Girls," "Dr. Feelgood" and "Kickstart My Heart." I know that more than one tear is going to be shed once the band starts playing "Home Sweet Home."
NYE L.A. @ Grand Park
If your ideal way of ringing in 2016 is rubbing elbows with thousands of other Angelenos, head on over to Grand Park in Downtown for "the West Coast flagship New Year's Eve countdown." While there is absolutely no alcohol allowed at the event, there is still plenty of fun to be had. Local music acts like Hunter Hunted, Gavin Turek and QUITAPENAS are set to play three music stages. You can capture some of the fun in a photo booth, take in some of the large art installations and be amazed by the 3-D digital video mapping being projected onto City Hall. Food is going to be available from vendors like Hawaiian Dancing Grill, Todos Ricos Hot Dogs and What the Funnel.
New Year's Eve @ The Queen Mary
This year's celebration is an experience that's completely unique to the Queen Mary. They're transforming seven spaces on the ship into different port destinations: New Orleans (jazz bands, gambling and Bourbon Street cocktails), Moscow (aerialists and a vodka luge), Beijing (Wushu Shaolin Entertainment and Chinese food), Tokyo (karaoke, sushi and sake), Hollywood (a swing band, and Glitz & Glamour Bar), Havana (Salsa dancing, Latin rhythms and a mojito bar) and Lahaina (hula dancing, island eats and tiki bar). All of this is 21+ and capped off with a fireworks display. Additionally, your NYE ticket comes with a complimentary pass to CHILL.
New Year's Eve Black & White Masquerade Ball @ The Standard Hollywood
Don your best black-and-white ensemble, and head over to the Standard for the evening. Producer Bryan Rabin and DJ Adam Bravin named their nightclub at the Standard after the award-winning producer Giorgio Moroder, and their NYE party is equally as legendary. Begin your night with dinner at Alma, then take in Joey Arias' genre-bending cabaret show. Dance, drink and be merry at Giorgio's before retiring to your room at the Standard (Giorgio guests get 25-percent off for Dec. 31 with the code: GIORGIOS25.).
Together As One @ Oak Canyon Park
Although it is a bit of a trek out to Silverado in Orange County, Together As One is the place to be if you just want to dance your ass off all night. With over 25 DJs spinning on three stages from when the doors open at 5 p.m. into the night, you're sure to get your money's worth. The lineup includes: Christopher Lawrence, Sander Kleinenberg, Alex Kenji, Junior Sanchez, QBert, Heather & Collette and many more.
Video Slider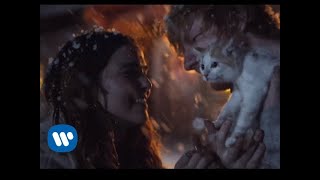 Win Tickets to See Ed Sheeran at the Rose Bowl
Ed Sheeran is back in Los Angeles, and your chance to see him perform is at the Rose Bowl in Pasadena on Saturday, Aug. 18. We are giving away complimentary tickets to the show. For a chance to enter to win, email us at
[email protected]
with "Ed Sheeran" in the subject line and tell us why you would like to go.